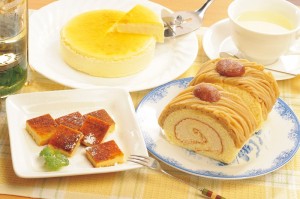 Product Description
Flowers bloom beautifully and the moon shines bright temple roll, assorted sweets of the Tirol cheesecake another person mind
"The roll that a caramel thing does not try to be you" of the exquisite taste of Mont Blanc and the caramel cream. "The super gently heavy cheesecake" which all handmade products made discerning very rare French cheese. "Complainer カタラーナ" which I finished I used the egg of the Kikuchi farm of Oshu-shi abundantly, and to move in a denseness and a smooth spout. Please enjoy the sweets of departure from IWATE feelings.
[product contents]
(Flowers bloom beautifully and the moon shines bright temple) cheesecake 4 super gently heavy a caramel thing the roll person of mixed parentage who does not try to be you (Tirol), for each one 110 g of (Aleve) complainer カタラーナ Xs
The expiration date: Freezing 30th
A shipment temperature zone: Freezing service
(cool rate 210 yen is added in the postage separately.)
Please contact us for more details.